iOS 15 is full of discreet features that Apple did not take the time to detail on stage. Here are some small tools present in the new OS that will make your life easier.
Apple took advantage of the inaugural WWDC 2021 keynote to reveal the latest version of its mobile OS: iOS 15. In a few minutes, the various Apple officials presented the major new features of this system. However, not all useful features could be detailed. Here is a quick tour of the changes in iOS 15 that could improve your daily life.
Double authentication code generation
If you've followed our advice, many of your accounts may already be protected with two-factor authentication, and require a one-time code when signing in.
These codes are usually stored in a third-party app, but with iOS 15 it will be possible to save them in your iPhone's "key ring". This will allow your iPhone to automatically fill in these codes when necessary.
AirTag-style localization
Apple's Find Find service already makes it easy to find a lost or forgotten iPhone somewhere. But it only works if your phone is on. In the event of a dry battery failure, the tool will only indicate the last known position of your device.
With iOS 15, that will change. Even turned off, your phone will continue to be locatable thanks to a very low power consumption mode that will more or less transform your iPhone into an Airtag capable of connecting to surrounding devices to communicate its location.
Character recognition in photos
With iOS 15 your camera will get smarter. Whether it is within the camera itself or when viewing old photos, your iPhone will be able to detect text on an image, and will offer you to extract it from the image to copy and paste it or to research.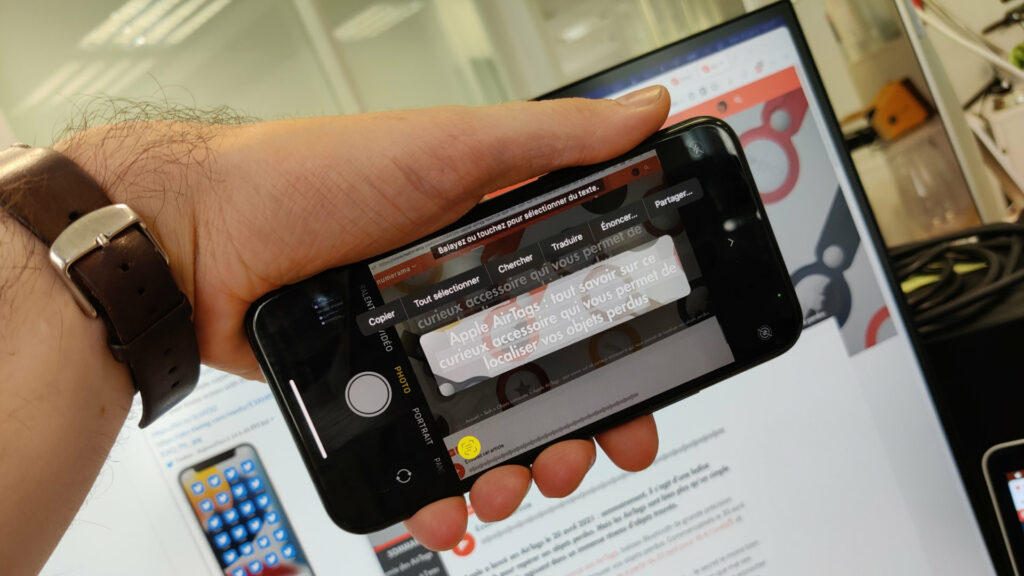 To use the feature, nothing complicated: just point at text from your camera until a small icon appears in the lower right corner of the screen. On already captured shots, just double-tap the text on the screen to switch to selection mode. If you're jealous, know that owners of Android devices can do the same with the Google Lens app.
App duplicates
If you want to customize your virtual desktops as you want, know that it is possible with iOS 15 to place multiple instances of the same application on your home screen.
So if one of your apps is in your dock, but you also want it on a desktop page or in a tidy folder, it's possible. You just have to go and find your app clone in the app library (last virtual desktop on the right).
Spotlight from the lock screen
Apple's Universal Search (dubbed Spotlight) is now accessible from the iPhone lock screen on iOS 15. This will make searches easier, although you will still need to unlock the phone before you can launch an app.
If you don't want someone to be able to search your app catalog, you can disable this feature from the section Face ID and Code in the app Settings.